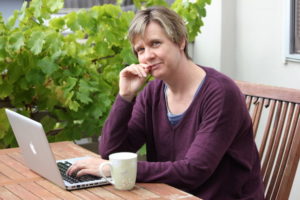 Hi, I'm Ruth Amos. I'm an author, speaker, editor, wife, and mother of two incredible grown-up children. I have a PhD in Chemistry and until recently have worked as a lecturer and researcher at the University of Tasmania. Now I am branching out on my own, writing a lot more, and starting my own editing business.
I live in Tasmania, Australia, one of the best places on God's earth. I love writing, reading, walking on the beach, and having coffee with people.
I am a disciple of Jesus and though I regularly stumble, I try always to get back in step with Him as soon as possible.
I write a blog (aquietlifeblog.wordpress.com) and my books are self-help/memoir. I also write fiction under the name RJ Amos and you can find that at www.rjamos.com.
You can connect with me on Twitter @aquietlifeblog and on Facebook at Facebook.com/Ruth-Amos-Author-617887328559185.